Black History Month

Story by: History.com Editors

Black History Month is an annual celebration of achievements by African Americans and a time for recognizing their significant role in U.S. history. President Gerald Ford officially recognized Black History Month in 1976, calling upon the public to "seize the opportunity to honor the too-often neglected accomplishments of Black Americans in every area of endeavor throughout our history." There are many leaders, activists and civil rights pioneers who have contributed to the history of African Americans such as Frederick Douglass, Sojourner Truth, Marcus Garvey, Martin Luther King Jr., Malcolm X, Rosa Parks and the 44th President of the United States Barack Hussein Obama II. In honor of Black History Month, the PaYS Program will highlight African American leaders and their achievements.



---

---





PaYS Honors African American Women in Law Enforcement

By: Davin Bentley, Crancena Ross and Kris Broadus


In honor of Black History Month, PaYS would like to recognize three African American women that lead their law enforcement agencies. Chief Elaine Bryant, Sheriff Karen Bowden and Chief Denise Downer-McKinney are examples of what arduous work and perseverance can accomplish.





Columbus, OH Police Chief Elaine Bryant recently became the first black woman selected Chief of Police for the City of Columbus. Before starting her career, Chief Bryant went to Central Michigan University for her Bachelor of Science Degree in Public Administration and Community Development where she graduated with honors (Magna Cum Laude). She also holds a Master's Degree in Criminal Justice Administration from Bowling Green State University where she also graduated with honors (Summa Cum Laude).

Chief Bryant started her career in law enforcement with the Detroit Police Department (DPD) in 2006. She spent over two decades moving through the ranks of the DPD. In 2019, she was selected the Deputy Chief of Police for the City of Detroit. On June 2, 2021, Mayor Andrew J. Ginther announced Elaine Bryant Chief of Columbus Police after an extensive national search and community engagement process.

Under Chief Bryant's leadership, the Columbus Police Department (CPD) has become more progressive and diverse. Chief Bryant has made an aggressive approach toward the Veterans recruiting program. She has made it a goal to passionately pursue Veterans to fill the department's ranks. CPD's recruiters attend all Veteran hiring events and career fairs, which led to a close relationship with U.S. Army Soldier for Life (SFL) and the local Army recruiters in Columbus to collaborate on various recruiting initiatives. Over the years, CPD has interviewed and hired many Army Veterans including PaYS Soldiers.

Davin Bentley, PaYS Marketing Analyst reached out to Chief Bryant and asked her what it means to become the first African American woman Chief of the largest metropolitan area in Ohio, Chief Bryant stated, "this is a pivotal moment to be stepping into this role, and I am firmly committed to embracing change, diversity and clear and open communication to improve safety, enhance accountability and rebuild trust between officers and the community."





Sheriff Karen Bowden is Sheriff at the Hampton Sheriff's Office in Hampton, VA. Sheriff Bowden was born in Smithfield, VA, and graduated from Smithfield High School. After high school she went to Norfolk State University where she received a Bachelor of Arts in Interdisciplinary Studies.

Sheriff Bowden has worked for the Hampton Sheriff's Office for the past 37 years and was second-in-command for over 22 years until she made history in December 2021. She is Hampton's 35th Sheriff, first woman and first African American Sheriff.

During a recent interview with Crancena Ross, PaYS Marketing Analyst, Sheriff Bowden spoke about her recent promotion and stated, "I am most grateful for all that I have accomplished. However, becoming the first woman and African American Sheriff is above all." She also discussed settling into her new role, "I look forward to the challenges that the position brings and I will meet them all with positivity and continue to build upon Sheriff Roberts' legacy of success." Sheriff B.J. Roberts is Bowden's predecessor who recently passed away.




Chief Denise Downer-McKinney made history in Rome, GA by becoming the first African American Chief of Police. Prior to joining the Rome Police Department, she attended college at the University of Cincinnati and earned her Master's in Public Administration from Columbus State University. After college, she returned to her hometown of Rome to assist her family. While working at Sears as a recent college graduate, her co-worker, who was also a Rome Police Officer, recommended she get some life experience and consider law enforcement. What she originally thought would be a 20 year stint, has blossomed into a 35 year career of selfless service, love and compassion to the citizens of Rome.

She began her career with the Rome Police Department in 1985 as a Patrol Officer; advancing her way through the ranks reaching Major by 2010. Chief Downer-McKinney holds a number of impressive credentials, including being a graduate of the FBI National Academy.

PaYS Marketing Analyst, Kristopher Broadus had the opportunity to get a quote from Chief Downer-McKinney on her success and she stated, "I credit my success to my family, faith and mentors who've guided me throughout the years." She says she begins every day with a simple prayer, "God, please lead me in all that I think, all that I say, and all that I do." Her investments into the city with initiatives like the Pastoral Police Academy, volunteering, serving on numerous committees and boards have forged bonds between the Rome Police Department and its citizens. She also expresses gratitude for the citizens of Rome for being a forward-thinking community who have entrusted her with the blessing of working with a lot of believers that pride themselves on service to others over themselves.


Congratulations to Chief Elaine Bryant, Chief Denise Downer-McKinney and Sheriff Karen Bowden! Your dedication and accomplishments inspire others to achieve greatness. The PaYS Team is immensely proud to be partnered with law enforcement agencies that have leaders who have contributed to the legacy and history of African Americans.



---

---

A MESSAGE FROM
THE PROGRAM MANAGER...



















Dear PaYS Partners,


Let's welcome our newest PaYS Partners and give a special thanks to the battalion's leadership and A&PAs for their support.


Kansas City Board of Police Commissioners - Kansas City Battalion

JTs Automotive Group - Columbia Battalion

New York Life Hawaii -Portland Battalion

Change Healthcare Operations, LLC - Mid-Atlantic Battalion

GAF - Mid-Atlantic Battalion

Security Industry Specialists, Inc. - New England Battalion

M.I.B. Security Group - NorCal Battalion

TLG Peterbilt - Kansas City Battalion

Beyer Graphics International - New York City Battalion

Greenville (NC) Police Department - Raleigh Battalion

South Burlington Vermont Police - VTARNG

Bristol Management Services, Inc. - Seattle Battalion

Global Foundries - VTARNG

Southern Crown Partners, LLC - SCARNG

Vos Glass, Inc. - MIARNG


Upcoming Signing Ceremonies

22 February 2022: Hampton Sheriff's Office - Richmond Battalion

2 March 2022: Walter P. Rawl & Sons, Inc. - Columbia Battalion

3 March 2022: JTs Automotive Group - Columbia Battalion

9 March 2022: Everi - Salt Lake City Battalion

10 March 2022: Builder FirstSource - Dallas Recruiting Battalion

10 March 2022: City of West Monroe - Baton Rouge Battalion

15 March 2022: Konecranes, Inc. - OHARNG

16 March 2022: Cobb County Sheriff's Office - Atlanta Battalion

24 March 2022: College of Biomedical Equipment Technology - San Antonio Battalion

25 March 2022: Mercedes Benz U.S. International, Inc. - Montgomery Battalion

28 April 2022: Moffitt Cancer Center - Tampa Battalion



Regional Army PaYS Marketing Analysts:

Crancena Ross (Northeast Region)
(410) 206-0413
crancena.g.ross.ctr@army.mil

Kristopher Broadus (Southeast Region)
(615) 419-5357
kristopher.s.broadus.ctr@army.mil

Davin Bentley (Midwest Region)
(614) 886-0270
davin.j.bentley.ctr@army.mil

John Delk (West Region)
(847) 971-1336
john.e.delk.ctr@army.mil

Samuel Armstrong (ARNG East)
(202) 770-7200
samuel.armstrong21.ctr@army.mil

Samuel Gitchell (ARNG West)
(501) 249-2437
samuel.b.gitchell.ctr@army.mil



PaYS Highlights African American Civilian Aides to the Secretary of the Army
By: Crancena Ross, Jim Meade, Davin Bentley, and John Delk


Civilian Aides to the Secretary of the Army (CASAs) are business and community leaders appointed by the Secretary to advise and support Army leaders across the country. In honor of African American History Month, PaYS would like to recognize African American CASAs who support the U.S. Army.
---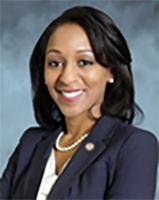 Ms. Erica Jefferies-Purdo is the only CASA that has had the great fortune to serve in two different states. Her first appointment was in Illinois (North) from January 2017 to November 2018. After leaving her post in 2018, she was compelled to continue to serve and was appointed as the New Jersey (South) CASA in November 2019.

Before her role as a CASA, Ms. Purdo graduated from West Point and served in the Army as a Commissioned Officer from 1998 to 2003. She was assigned to the 4th Infantry Division as an Aviation Officer, Blackhawk Helicopter Pilot. She concluded her service as the Assistant Secretary to the General Staff for III Corps at Fort Hood, TX.

After leaving the Army, Ms. Purdo served as a White House Fellow for the Obama Administration. During this time, she also had the opportunity to work with the Head of State, Congressional Leaders and Business Leaders.

During an interview, PaYS Marketing Analyst, Crancena Ross asked Ms. Purdo what she found to be most rewarding about her service as a CASA. She replied, "seizing the opportunity to help young people gain scholarships to attend college and go on to serve our Army." Her experience as an Army Officer created the desire to serve others. Serving as a CASA allows her to seek out opportunities to continue serving her brothers and sisters in arms. Ms. Purdo says the Army changed her life, so she enjoys encouraging young people to think about the Army as a career option to change their lives as well.


---


CASA Terrance McWilliams grew up in DeLeon, FL and joined the Army in 1977 where he served on Active Duty for 30 years. He retired as the Command Sergeant Major for First Army Division West. McWilliams was appointed Civilian Aide to the Secretary of the Army in 2019 during an investment ceremony at 4th Infantry Division headquarters at Fort Carson, CO. CASA McWilliams also serves as the Senior Vice President of Military and Veterans Affairs for the El Pomar Foundation in Colorado Springs, CO.

James Meade, PaYS Marketing Analyst asked CASA McWilliams what historical figure he celebrates the most during Black History Month. He said, "Carter G. Woodson who was cited as the 'father of black history` and in February of 1926, he launched the celebration of Negro History Week which was recognized as the precursor to Black History Month." CASA McWilliams added that his favorite quote from Carter G. Woodson is "In the long run, there is not much discrimination against superior talent."

CASA McWilliams is extremely proud to continue his Army service as a CASA. He said, "I truly believe in the Soldier for Life Program; once a Soldier, Always a Soldier". "The strength of this Greater Colorado Springs is its Military and I will do anything I can to enforce and support the Army!"



---


Ms. Marcia Anderson currently serves as one of the CASAs in the State of Wisconsin. CASA Anderson is a native of Madison, WI where she resides with her family. In 2011, CASA Anderson became the first African American woman in the U.S. Army Reserve to attain the rank of Major General. This trailblazing achievement should serve as an inspiration for all who strive for equality and believe that hard work and dedication pays off.

After 37 years of Military service, CASA Anderson retired from the Army in 2016 and resumed her job as Clerk of the Court for the U.S. Bankruptcy Court for the Western District of Wisconsin which she has held for 35 years while serving in the U.S. Army Reserve. In November 2021, she was appointed CASA of the State of Wisconsin.

Davin Bentley, PaYS Marketing Analyst reached out to CASA Anderson and asked her when and why did she join the Military? She said, "It was actually very unintentional. In 1977, I was registering for classes and Creighton University required all liberal arts majors to take a science class. Unfortunately, the only one I wanted to take was astronomy, but since I had a night job, that was out of the question. So, as I was standing in the gym searching for a class, I saw one table that had nobody in line. The sign identified it as the Military Science Department and in smaller print it said Reserve Officer Training Corps (Army ROTC). I never looked back and have never regretted my decision."



---



Mr. Mark Benton was appointed as a CASA in San Francisco, CA in August 2020. Mr. Benton was commissioned as an Army Corps of Engineer Officer and then transitioned to a career in the Military Police Corps. After his Military service, Mr. Benton had a successful career in Law Enforcement as a San Francisco Senior Deputy Sheriff. He also served as President of the Board of Directors of SSF Boys & Girls Club. Currently, he is President of the Bay Area ROCKS (Interest Group), San Francisco Chapter president of Association of the United States Army, an elder board member of his local church and serves on the Northern Army California Relations Board.

Recently, PaYS Marketing Analyst, John Delk interviewed Mr. Benton. When asked what he enjoys most about being a CASA, he stated, "What I enjoy most is the responsibility of being a CASA and sharing my Army story. My family's Army story shows how it can help an individual accomplish one's career dreams."






---

PaYS thanks all of our CASAs for their support and the exceptional work they do in their communities.


---
---
Kalahari Resorts and Conventions Announces Partnership
By: Samuel Gitchell


This month the Partnership for Youth Success (PaYS) and Kalahari Resorts and Conventions conducted a signing ceremony at one of Kalahari's four resorts in Round Rock, TX. The event formalized the partnership between the United States Army and Kalahari Resorts and Conventions.

The ceremony was hosted by LTC Russell Clark, Commander, Texas Army National Guard (TXARNG) Recruiting and Retention Battalion. Kalahari Resorts and Conventions President/CEO, Mr. Todd Nelson was present for the event along with Anna Rogers, Assistant Corporate Director of Human Resources, Tim Arnold, General Manager Kalahari Resorts and Oscar Rodriquez, President Texas Association of Broadcasters.
Right - LTC Russell Clark, Commander, Texas Army National Guard Recruiting Battalion presents PaYS plaque to Anna Rogers, Assistant Corporate Direction of Human Resources, Kalahari Resort and Conventions

Below - LTC Russell Clark, Commander, Texas Army National Guard Recruiting Battalion administers the Oath of Enlistment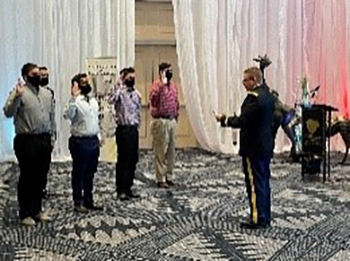 During the ceremony, LTC Russell Clark said, "I want to thank you for helping us link high quality employees with high quality employers." After LTC Clark and Anna Rogers signed the ceremonial agreement, he administered the Oath of Enlistment to four TXARNG Future Soldiers. After the signing ceremony concluded, Mr. Todd Nelson thanked everyone for attending and expressed how thankful he was to partner with the U.S. Army.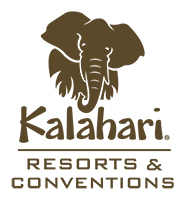 Kalahari Resorts and Conventions are full service vacation destinations including meeting and convention facilities that combine America's largest indoor waterparks. They will now offer employment opportunities to transitioning Soldiers at their locations in Pocono Mountains, PA, Sandusky, OH, Wisconsin Dells, WI and Round Rock, TX.


Congratulations to Kalahari Resorts and Conventions. We look forward to a successful partnership.
---
---
Good News Stories
By: Davin Bentley, John Delk and James Meade
This month, PaYS has more good news stories to share. Soldiers are still being hired by our partners and we are continuing to shine the spotlight on their achievements. Finding a job after the Army is not an easy task and for some, it can be a very stressful event. PaYS offers Soldiers and Cadets up to five guaranteed interviews with the partners of their choice. We hope the following stories encourage more Soldiers and partners to participate in the interview and hire process on behalf of PaYS.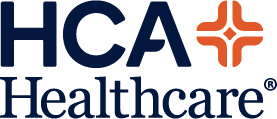 Congratulations are in order for HCA Healthcare (HCA) and U.S. Army Reserve (USAR) Specialist (SPC) Ulrich Njkou Sembe! SPC Sembe enlisted in the USAR in July 2019 as an Operating Room Specialist (68D) and selected HCA as one of his PaYS Partners. After a successful interview with HCA, SPC Sembe was hired as a Surgical Technologist (Scrub).

SPC Njkou Sembe completed Initial Entry Training at the Army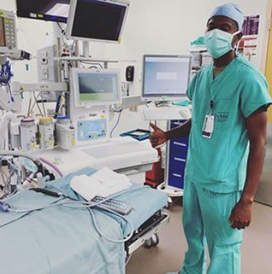 Medical Center for Excellence at Fort Sam Houston, TX. After returning from training, SPC Njkou Sembe started his new position as a Scrub Tech with HCA in West Houston, TX. The skills that he learned in 68D training directly correlate to SPC Sembe's duties as a Scrub Tech and have enabled him to achieve the designation of Certified Surgical Technologist (CST) through the National Board of Surgical Technology and Surgical Assisting.

As a Soldier in the USAR and employee at HCA, SPC Sembe is also pursuing a degree in biology at Houston Community College with an anticipated graduation year of 2023. PaYS Marketer, Davin Bentley asked SPC Sembe why did he select the medical field for college. SPC Sembe, said "I am motivated and always looking to learn something new to update my knowledge in the medical field."

As a native of Cameroon, West Africa, SPC Sembe is fluent in both English and French. Further, he serves as a champion for Army recruiting by sharing his personal successes on various social media platforms. The PaYS Program would like to thank HCA for their continued support and wish SPC Sembe the best as he grows his career in the healthcare field.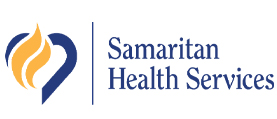 The Army PaYS Program would like to congratulate Samaritan Health Services and SPC Rebecca Rodriguez! Rebecca joined the army on June 5, 2017, as a Health Care Specialist (68W) and selected Samaritan Health Services as one of her PaYS Partners. Upon completion of Basic Combat Training at Fort Jackson, SC, and Advanced Individual Training at Fort Sam Houston, TX, SPC Rodriguez was stationed at Fort Bragg, NC where she completed the remainder

of her service obligation. During her transition, SPC Rodriguez contacted Samaritan Health Services to schedule her interview. She was hired soon after and now works at Samaritan Health Services as a Licensed Practical Nurse (LPN).

PaYS Marketer, John Delk asked Rebecca why did she select Samaritan Health Services as a PaYS Partner. She said, "I always wanted to become a nurse, so joining the Army as a LPN fit perfectly with my future plans. When my recruiter told me that I could also pick a PaYS Partner for a job interview after my enlistment, it honestly sounded too good to be true. I have a fantastic job and I'm also using my Montgomery GI Bill to go back to school for my Bachelors of Science in Nursing (BSN)."












SPC Kyle Keenan is from Dallas, TX and he enlisted in the Texas Army National Guard (ARNG) in October of 2021 as an Army Infantryman (11B). He completed Initial Entry Training (IET) at Fort Benning, GA. During the enlistment process, SPC Keenan selected Andrews Distributing as one of his PaYS Partners.

Andrews Distributing hired SPC Keenan as a Quality Control Specialist and he travels to customer locations to ensure that beverage lines are clean. He is immensely proud of being able to serve his country while working for Andrews at the same time. SPC Keenan is very thankful for the opportunity the PaYS Program afforded him. PaYS Marketer James Meade asked him, what does it mean to be a PaYS Soldier. He said, "It means everything to me to serve while working for Andrews, because serving has been one of the best things I have ever experienced in my life. My employer has helped give me the opportunity to continue serving by being extremely flexible and supportive." He went on to say, "Andrews promotes from within, and they are the most Veteran-friendly organization I have ever come across."

SPC Keenan's short term goals for his Army career are to get promoted to Sergeant and successfully pass the Army's Airborne Training Course. He is not sure how long he will remain in the Army but he intends to reenlist as long as it continues to be challenging and fun.








SPC Madeline Holliman joined the Kansas Army National Guard

(KSARNG) in February of 2020. She attended Initial Entry Training (IET) at Fort Leonard Wood, MO and graduated as a 12T, Technical Engineer.

SPC Holliman selected Watco Companies, LLC as a PaYS Partner. After completion of her training, Watco Companies, LLC hired SPC Holliman as an Associate Property Manager. Most of Watco`s employees are Veterans or have family members who have served.

PaYS Marketer James Meade asked SPC Holliman how much of the Army training transferred over to her present job, she replied, "part of my current role involves interpreting maps, surveys and construction plans so basically using the data I collect as a 12T in a practical setting. Additionally, I find Army leadership training and resiliency training to be applicable to my civilian job. My department has future plans to do field-level data collection, so I hope to apply more technical skills at Watco through that opportunity."

SPC Holliman is very passionate about her Army and civilian careers. She is proud to be a Soldier/Citizen. James` final question to SPC Holliman was, what do you find most rewarding with the PaYS Program. SPC Holliman simply replied, "I am grateful for PaYS and the opportunity to continue serving in the Kansas National Guard while advancing my career with a locally-owned company alongside many fellow service members and Soldiers."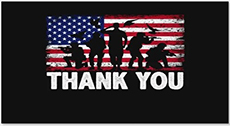 The PaYS Program would like to extend its gratitude to HCA Healthcare, Samaritan Health Services, Andrews Distributing and Watco for their continued support for the program and our Soldiers. Last but not least the PaYS Team wishes Njkou Sembe, Rebecca Rodriguez, Kyle Keenan and Madeline Holliman the best of luck pursuing their careers.




---
---
PaYS/Army National Guard Visits
By: Samuel Armstrong, Samuel Gitchell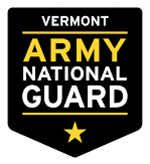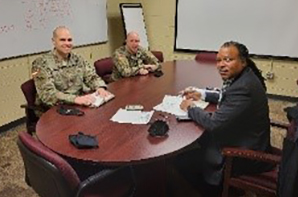 Last month, PaYS Marketing Analyst Samuel Armstrong traveled to Vermont to conduct marketing activities while supporting the Army National Guard (ARNG). During the trip, he met with MAJ Robert Burke, Vermont Army National Guard (VTARNG) Recruiting & Retention Battalion and CSM Patrick Creamer. During the meeting, Mr. Armstrong discussed how the Recruit Sustainment Program can assist in identifying Soldiers who selected PaYS. They also spoke about current and potential partnerships in Vermont. VTARNG is fully commented to the success of Army PaYS.

Right - PaYS Marketing Analyst Samuel Armstrong conducting PaYS Overview with MAJ Robert Burke, Vermont Army National Guard (VTARNG) Recruiting & Retention Battalion and CSM Patrick Creamer.


Bottom right - Samuel Gitchell, PaYS Marketing Analyst met with Texas Army National Guard (TXARNG) Guidance Counselors (GCs) SFC Fine, SFC McPherson and Ms. Chiquita Sutton.


Samuel Gitchell, PaYS Marketing Analyst visited the San Antonio Military Entrance Processing Station (MEPS) during a recent marketing outreach trip. Mr. Gitchell met with Texas Army National Guard (TXARNG) Guidance Counselors (GCs) SFC Fine, SFC McPherson and Ms. Chiquita Sutton. The TXARNG GCs understood the PaYS Program and have been briefing all new Soldiers on PaYS. Mr. Gitchell and the MEPS GCs discussed different ways to promote awareness of PaYS within the TXARNG. We appreciate the support of the MEPS GCs in Texas for ensuring Soldiers are informed of PaYS during the enlistment process.






---
---
Members In Black (MIB) Private Security
By: John Delk
On 18 January 2022, Members In Black (MIB) Private Security officially became the 1053rd partner to join the Army Partnership for Youth Success (PaYS) Program. Founder and president, Mr. Theo Dixon, started MIB with a simple vision in 2002. Through determination, persistence and defying the odds, MIB has grown over the past 20 years to become Sacramento, California's most trusted private security firm. MIB's mission is to provide professional protection and security, giving clients the confidence and ability to perform their daily activities in a safe setting.

During an interview, PaYS Marketing Analyst, John Delk asked how MIB became successful. Mr. Dixon said, "In order to run you must first learn how to walk, in order to walk you have to learn how to crawl. It all starts with the basics, hard work, determination and patience." Mr. Dixon attributes MIB's successes by establishing a reputation of professionalism, reliability and authenticity. "Our number one priority is to take care of the clients and their security needs while correspondingly taking care of the employees, it all goes hand in hand."

John also asked how it feels to be PaYS' 1053rd Partner. Mr. Dixon stated, "It is an honor to be able to give back to Soldiers and the community and I look forward to working with the Army PaYS Program."
Right - Theo Dixon, President / CEO, MIB Private Security

---
---

A Big Thank You to these Partners Celebrating their February PaYS Anniversaries:
Deere & Company 16-Feb-01 NFI Industries 23-Feb-04 Pierce County Sheriff's Office 23-Feb-04 Shell Oil Company 24-Feb-04 Tallahassee Police Dept. 4-Feb-05 RDO Equipment Co. 17-Feb-05 Texas Instruments 25-Feb-05 Sacramento County Sheriff's Dept. 7-Feb-06 Orange County Sheriff's Office 7-Feb-06 Quad/Graphics, Inc. 7-Feb-06 Hawaii State Government 13-Feb-06 Las Vegas Metro Police Department 13-Feb-06 Sears Holdings Corporation 16-Feb-06 G4S Secure Solutions 21-Feb-06 Quest Diagnostics 5-Feb-07 Nationwide Truck Brokers, Inc. 5-Feb-07 OMNI Energy Services Corporation 5-Feb-07 Brock Group 13-Feb-08 City of Columbus, Department of Public Safety 19-Feb-08 Mississippi Dept. of Corrections 19-Feb-08 Albuquerque PD 23-Feb-08 Louisiana Office of Juvenile Justice 17-Feb-09 Baton Rouge General Medical Center 23-Feb-09 Orion South, Inc. 23-Feb-09 U-haul International, Inc. 28-Feb-09 East Texas Medical Center 28-Feb-09 AT&T, Inc. 9-Feb-10 Haas Automation, Inc. 1-Feb-11 Don Schumacher Racing Corp. 1-Feb-11 Schumacher Electric Corp. 1-Feb-11 GSE Lining Technology, LLC 1-Feb-11 Minnesota Wire & Cable Company 24-Feb-11 Frank C. Alegre Trucking, Inc. 12-Feb-14 URRA CO., Inc. dba Flynns Tire Group 19-Feb-14 City of Cape Girardeau 19-Feb-14 Rivera Consulting Group, Inc. 19-Feb-14 AM Waters 8-Feb-16 The City of Orangeburg 10-Feb-16 The Geo Groups, Inc. 10-Feb-16 St. Joseph Regional Medical Center 11-Feb-16 Ocala Police Department 11-Feb-16 Horizon Health Care, Inc. 17-Feb-16 Brad Cole Construction 23-Feb-16 Dental Associates 26-Feb-16 System Scale Corporation 26-Feb-16 Indue Sales & Services, Inc. 10-Feb-17 Hamilton County Sheriff's Office 2-Feb-18 First Coast Security Services, Inc. 2-Feb-18 Novation Enterprise 2-Feb-18 Pennington County Sheriff's Office 2-Feb-18 West Florida Medical Center 2-Feb-18 GAT Airlines Ground Support 2-Feb-18 University of Wisconsin Hospital and Clinic Authority 2-Feb-18 Cortina Solutions 5-Feb-18 Enstrom Helicopter Corporation 5-Feb-18 Pharmaceutical Products Deveploment 5-Feb-18 RMI 5-Feb-18 South Carolina DMV 16-Feb-18 Cincinnati Fire Department 16-Feb-18 Centerstone 16-Feb-18 Regional Health 16-Feb-18 Tempus, Inc. 15-Feb-19 ShipEx, LLC 15-Feb-19 The Meruelo Media 15-Feb-19 Gwinnett County Sheriff's Office 27-Feb-19 Mayvin, Inc. 10-Feb-20 Park National Bank 10-Feb-20 TWC Service 10-Feb-20 Bonnell Industries, Inc. 10-Feb-20 T-Rex Solution 13-Feb-20 Heartland RV 13-Feb-20 Elior North America 14-Feb-20 Charter Senior Living 14-Feb-20 Plymouth & Brockton Street Railway, Co. 20-Feb-20 John C Fremont Healthcare District 20-Feb-20 College of Biomedical Equip Tech 20-Feb-20 B & J Trucking Service, Inc. 20-Feb-20 City of Radcliff 9-Feb-21 Mission BBQ 9-Feb-21 Cloverdale Foods Company 9-Feb-21 Eyemart Express Holdings, LLC 9-Feb-21 Randall County Sheriff's Office 9-Feb-21 McCall Farms 10-Feb-21
---
---

Archived newsletters - https://www.armypays.com/newsletter/archive/Newsletter_list.html
To contact us please email usarmy.knox.hqda-asa-mra.mbx.Payshelpdesk@army.mil