Native American Heritage Month

Story by Malinda A. Johnson


November is Native American Heritage Month, or as it is commonly referred to, American Indian and Alaska Native Heritage Month. It has evolved from its beginnings as a week-long celebration in 1986, when President Reagan proclaimed the week of November 23-30, 1986 as "American Indian Week." Every President since 1995 has issued annual proclamations designating the month of November as the time to celebrate the culture, accomplishments, and contributions of people who were the first inhabitants of the United States.




Native Americans Have a Long History of Service

Native Americans have served in the U.S. Military in every major conflict for more than 200 years. From the battlefields of the Revolutionary War, to the beaches of Normandy on D-Day to the front lines of today, American Indians and Alaska Native people have defended this country for centuries. Native Americans were even instrumental in the unification of the United States - Gen. Ely S. Parker, a member of the Seneca Nation, served as Gen. Ulysses S. Grant's Military Secretary during the Civil War, and Parker would eventually write the final draft of the Confederate terms of surrender.


Right - Gen. Ely S. Parker

Below - Navajo Code Talkers, circa 1943




Navajo Code Talkers Were Crucial to U.S. Victory in World War II


In recent years, the Navajo Code Talkers have become legendary for creating a special code using their indigenous language to transmit sensitive information during World War II. The Navajo people's unique and largely unwritten language made it an ideal fit for creating a code, and 29 Navajo men initially joined the Marine Corps for this highly sensitive operation. By the end of the war, there were approximately 400 Native Code Talkers in the Military from the Navajo, Cherokee, Choctaw, Lakota, Meskwaki and Comanche tribes, all translating encrypted messages in their native tongues from the front lines in real time as they received them.

Years later, of the 42,000 Native Americans who served in the Vietnam War, 90% of them were volunteers. Regardless of the role, Native Americans have always been present and ready to step up when duty calls.



Native Americans in the U.S. Military Today

In our modern U.S. Military today, American Indians and Native Alaskans have carried on a tradition of service and sacrifice, as they serve at a higher rate than any other demographic in the entire country. Since September 11, almost 19% of all Native Americans have served in the Armed Forces - in comparison to an average of 14% of all other ethnicities.

Regardless of the challenge, Native American service members have stepped up to serve the United States with distinction, dedicating their lives to protecting this country no matter the cost.

This month, PaYS would like to salute all Soldiers, partners and stakeholders with Native American Heritage.


https://www.uso.org/stories/2914-a-history-of-military-service-native-americans-in-the-u-s-military-yesterday-and-today





---

---

A MESSAGE FROM
THE PROGRAM MANAGER...



















Dear PaYS Partners,

Let's welcome our newest PaYS Partners and give a special thanks to the battalion's leadership and A&PAs for their support.

Barry Callebaut - Vermont Army National Guard

Kalahari Resorts and Conventions - Wisconsin Army National Guard

Salo Inc. dba Interim Healthcare RMC - Columbus Battalion

New Angus LLC dba DemKota Ranch Beef - Minneapolis Battalion

Aspen Contracting, Inc. - Kansas City Battalion

Security Service Specialists, Inc. - New England Battalion

Everi - Salt Lake City Battalion

Hampton Sheriff's Office - Richmond Battalion

Calvary Industries, Inc. - Columbus Battalion


Upcoming Signing Ceremonies

2 December 2021: Georgia Department of Resources - Atlanta Battalion

2 December 2021: SRS Distribution - Dallas Battalion

19 January 2022: Kalahari Resorts and Conventions - Wisconsin Army National Guard

19 January 2022: Barry Callebaut - Vermont Army National Guard



Regional Army PaYS Marketing Analysts:

Crancena Ross (Northeast Region)
(410) 206-0413
crancena.g.ross.ctr@army.mil

Kristopher Broadus (Southeast Region)
(615) 419-5357
kristopher.s.broadus.ctr@army.mil

Davin Bentley (Midwest Region)
(614) 886-0270
davin.j.bentley.ctr@army.mil

James Meade (Southwest Region)
(614) 404-9104
james.r.meade6.ctr@army.mil

John Delk (West Region)
(847) 971-1336
john.e.delk.ctr@army.mil

Malinda Johnson (Senior Marketer)
(757) 777-2416
malinda.a.johnson.ctr@army.mil

Samuel Armstrong (ARNG East)
(202) 770-7200
samuel.armstrong21.ctr@army.mil

Samuel Gitchell (ARNG West)
(501) 249-2437
samuel.b.gitchell.ctr@army.mil

Army PaYS Welcomes New Partners
Story by: James Meade, John Delk, Kristopher Broadus


This month HHS and the U.S. Army held a Partnership for Youth Success (PaYS) Program signing ceremony. The ceremony was held at the HHS headquarters in Dripping Springs, TX which is a distant suburb of Austin, TX. HHS is a company that offers a diverse set of support services for the healthcare industry in the resort, senior living, government, aviation,
and education realms.

HHS' Chief Executive Officer, Mr. Bobby Floyd and LTC Adriana Ramirez-Scott, Commander, San Antonio Army Recruiting Battalion signed the ceremonial memorandum of agreement. During the ceremony, Mr. Floyd stated, "We believe that the values instilled by the Army of loyalty, duty, discipline, respect, selfless service, honor, integrity, and personal courage are values we seek to reflect amongst our team of over 19,000 across the globe".
Right - Mr. Bobby Floyd, Chief Executive Officer and LTC Ramirez-Scott, Commander, San Antonio Army Recruiting Battalion Hold the Ceremonial PaYS Plaque

---

LeafFilter North LLC conducted their official PaYS Signing Ceremony in Las Vegas, NV. The event was hosted by LTC John D. Lamkin, the Battalion Commander of the Salt Lake City Recruiting Battalion. Guest speakers included, Nicholas Busse, Director, Corporate Military and Diversity, Leaf Home; Sean Loboda, Chief, Human Resources, Leaf Home and Andrew Holbert, Constituent Service Manager, Congresswoman Susie Lee.

Mr. Holbert commented, "The Army PaYS Program helps ensure that American Veterans are truly taken care of by providing guaranteed interviews with our current and future PaYS Partners."
Left - Left to Right: John Delk Army PaYS Market Analyst, LTC John D. Lamkin, Mr. Nicholas Busse, Andrew Holbert.

---

This month Rome Police Department and the Atlanta Recruiting Battalion forged their partnership with PaYS in Rome, GA. LTC David Hensel, Commander, Atlanta Recruiting Battalion and Chief Denise Downer-McKinney, Chief of Police, Rome Police Department participated in the formal signing of the partnership. Rome Police Department is the 1,012th PaYS Partner to join forces with the U.S. Army.

State Representative Katie Dempsey attended the ceremony as a distinguished guest and provided remarks. Representative Dempsey applauded the commitment of the Rome Police Department and was encouraged by their new partnership with the U.S. Army. At the conclusion of the ceremony, several Army Future Soldiers from the surrounding area reconfirmed their Oath of Enlistment in a ceremony with LTC Hensel.


Right - LTC David Hensel, Commander, Atlanta Recruiting Battalion handing the Army PaYS plaque to Chief Denise Downer-McKinney, Chief of Police

---
---
Honoring Veterans Day
Story by Cory Thomas, Crancena Ross and John Delk

Veterans Day originated as "Armistice Day" on Nov. 11, 1919, the first anniversary of the end of World War I. Congress passed a resolution in 1926 for an annual observance, and Nov. 11 became a National Holiday beginning in 1938. Unlike Memorial Day, Veterans Day pays tribute to all American Veterans - living or dead - but especially gives thanks to living Veterans who served their country honorably during war or peacetime.


This month we would like to acknowledge some of our PaYS Partners that are honoring Veterans Day.












The New York City Veterans Day Parade is an annual event and one of the largest in the Nation that raises awareness to the true meaning of Veterans Day. We thank the following partners for their participation: New York City Police Department, New York City Fire Department, MTA-Transit, FDM, U-Haul and JP Morgan Chase.







The Seattle Police Department will participate in the 51st Annual Veterans Day Parade & Observance in Auburn, WA. One of the largest Veterans Day Parades west of the Mississippi, the event will include a Military fly-over, marching bands, honor guards, Military marching units and vehicles.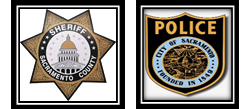 The Sacramento County Sheriff's Department and Sacramento Police Department are participating in the Sacramento Veterans Day Parade and Fair to salute the Troops and celebrate our Veterans.



https://www.history.com/topics/holidays/veterans-day-facts




---
---
Aviation History Month
Story by Cory Thomas
November is National Aviation History Month, when the accomplishments and milestone achievements of men and women aviators are recognized. According to the Government Printing Office, "National Aviation History Month is dedicated to exploring, recognizing and celebrating America's great contributions and achievements in the development of aviation. Aviation history refers to the history of development of mechanical flight - from the earliest attempts in kites and gliders to power heavier-than-air, supersonic and space flights."

In honor of this celebration, PaYS would like to show its appreciation to two of our aviation partners, Lockheed Martin and Southwest Airlines.




Lockheed Martin is a diversified company that deals with aircraft, space launchers, satellites and defense systems. They manufacture the F-16 Fighting Falcon multirole fighter, the C-130 Hercules Military transport, and the P-3 Orion maritime patrol aircraft. The company also conducts upgrades, modifications, and refurbishing of its older aircraft which were used during World War II.





Southwest Airlines has been supporting the American people with flights since 1971. In 1971 Southwest Airlines had three Boeing 737 aircraft. The company started small by serving local cites in Texas. The three cites that Southwest covered were Houston, Dallas, and San Antonio. Soon, Southwest became a major airline and exceeded the billion dollar revenue mark in 1989.


The PaYS Team would like to thank Lockheed Martin and Southwest Airlines for contributions to aviation.

---
---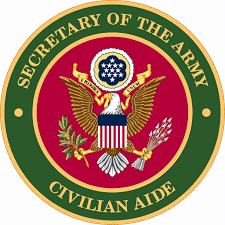 New York CASA Shows Support for PaYS
Story by Cory Thomas
Civilian Aides to the Secretary of the Army (CASA) bridge the gap between the Army and civilian community by disseminating information about the Army's objectives and major programs to the public through speeches, personal contact and participation in Army and community events. CASAs assist with recruiting by increasing the positive image of the Army and connecting Army recruiters to key influencers in the community.

On 21 October 2021, Steven P. Castleton, CASA, New York (South) coordinated a meeting where the PaYS Program Manager, Antonio Johnson was able to present PaYS to a group of local business leaders. The presentation took place during a luncheon at the historical Fraunces Tavern (New York, NY) and the TRADOC Commanding General, GEN Paul E. Funk was in attendance along with the New York City Recruiting Battalion leadership. The business leaders represented the New York Jets, New York Mets, Northwell Health, Island Federal Credit Union, SUNY and Beyer Graphics International. During the luncheon, Mr. Johnson was able to promote the awareness of PaYS and received major support from GEN Funk. At the end of the luncheon, all of the business leaders understood the value that PaYS adds to an organization that supports Veteran hiring. Mr. Johnson received verbal commitments to partner with PaYS from all of the leaders.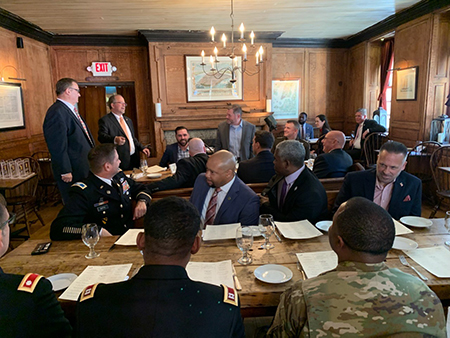 After the luncheon, Mr. Castleton provided the following quote, "It was only fitting that we have such amazing organizations like The New York Jets, New York Mets, SUNY, and TD Bank at Fraunces Tavern, the place where General George Washington gave his farewell address to the
troops, to discuss and to take action on how to provide incentives to join our Armed Forces, and to best prepare for when they move on to jobs in the private sector." "These outstanding organizations realize that hiring a Veteran provides the organization with individuals who are highly skilled and motivated to succeed at any task and the PaYS Program will give them a leg up on the competition".



On behalf of Mr. Johnson and the entire PaYS Program, we thank Mr. Castleton for his continued support.


Left - CASA Steven Castleton provides opening remarks to business/Military Leaders at NYC luncheon.
---
---
Army National Guard Funeral Honors Program
Story by Cory Thomas


The Virginia Army National Guard Funeral Honors Program started in January 2007 and is composed of five teams located throughout the state. These teams provide funeral details, not only to National Guard Soldiers but to Soldiers and Veterans of the Active Army and Army Reserve components as well. They have performed more than 26,866 funeral services throughout the Commonwealth and average approximately 200 services each month.

In order for Soldiers to participate in the program, they must complete a 40-hour, Level -One Training Course once a quarter throughout the fiscal year with Soldier Trainers from Virginia, Maryland and North Carolina. Virginia also annually hosts the Level Two National Training Course and the Level Three National Recertification Course with Army National Guard Soldiers from around the country.



For more information on this program as well as other Veteran benefits, www.va.gov


---
---
Army PaYS Team visits North Carolina
Story by Samuel Gitchell
Last month, PaYS Marketing Analysts Samuel Armstrong and Samuel Gitchell traveled to the Tar Heel State to conduct marketing activities while supporting the Army National Guard (ARNG). During the trip, they met with LTC Christopher Rogers, Commander, North Carolina Army National Guard
(NCARNG) Recruiting & Retention Battalion. During the meeting, Mr. Armstrong and Mr. Gitchell discussed how the Recruit Sustainment Program can assist in identifying Soldier's selected PaYS Partners in order to take advantage of the guaranteed interviews.


The PaYS Team also visited the Raleigh Police Department while in North Carolina. There, they had an opportunity to speak with SGT Jeffrey Steelman and Police Recruiter Kelly Liles about the PaYS Partnership. During the meeting, the team learned that Raleigh Police Department has a higher success rate of hiring applicants with a Military background.


Right - Samuel Gitchell, ARNG West Marketing analyst goes to Raleigh Police Department and talks to SGT Jeffrey Steelman, and Police Recruiter Kelly Liles
---
---

A Big Thank You to these Partners Celebrating their November PaYS Anniversaries:
Schneider National, Inc. 14-Nov-00 Baltimore County Police Department 7-Nov-03 Colas, Inc. 7-Nov-03 Dakota Electric Association 25-Nov-03 Harley-Davidson Motor Company 25-Nov-03 State of Wisconsin 8-Nov-04 Austin Police Department 8-Nov-04 Superior Bulk Logistics, Inc. 29-Nov-04 NES Rentals Holdings, Inc. 1-Nov-05 Compressor Systems, Inc. 2-Nov-05 State of Maryland Dept. of Public Safety & Correctional Services 17-Nov-05 Kubricky Construction 17-Nov-05 Polk County Sheriff's Office 18-Nov-05 Citicorp Credit Services, Inc. (USA) 17-Nov-06 Martin County Sheriff's Office (Florida) 28-Nov-06 Glenn O. Hawbaker, Inc. 18-Nov-07 Comfort Systems, USA 30-Nov-07 Tecta America Corp. 9-Nov-08 J. B. Hunt Transportation, Inc. 24-Nov-09 Louisiana Dept. of Revenue 24-Nov-09 Aultman Health Foundation 4-Nov-10 Cleveland Track Material, Inc. 4-Nov-10 Southern Company Services, Inc. 7-Nov-10 Booz Allen Hamilton 7-Nov-10 Fuel Delivery Services, Inc. 17-Nov-10 Groendyke Transport, Inc. 11-Nov-12 GE Healthcare 11-Nov-12 EAN Holdings, LLC 20-Nov-12 Summit County Sheriff's Office 20-Nov-12 CFAN 05-Nov-13 ZipRealty 20-Nov-13 Heartland Employment Services, LLC 20-Nov-13 MTA-NYC Transit 21-Nov-13 Columbia College Hollywood 21-Nov-13 MHC Kenworth 17-Nov-14 Custom Company, Inc. 17-Nov-14 Jax Home Health, Inc. 1-Nov-16 Trademark Metals Recycling, LLC 7-Nov-16 Westgate Resort 11-Nov-16 City of Warner Robins 29-Nov-16 BlueSky Communication 6-Nov-17 Quantum Research International 6-Nov-17 Chattanooga Police Department 6-Nov-17 RTST Express, Inc. 6-Nov-17 DynCorp International LLC 12-Nov-17 Anchorage Police Department 20-Nov-17 Olios Health and Affiliated Companies 20-Nov-17 Gurney Trucking, Inc. 20-Nov-17 M&G Jewelers, Inc. 29-Nov-17 Community Care Ambulance 29-Nov-17 Lafarge Holcim 29-Nov-17 RPM Transportion, Inc. 8-Nov-18 Dignity Health 8-Nov-18 Huntington Ingalls Industries 8-Nov-18 Raymond Handling Solution 11-Nov-18 Midwest Express, Inc. 16-Nov-18 Skyline MegaFest, LLC 16-Nov-18 Akima, LLC 26-Nov-18 Cedar-Sinai Medical Center 26-Nov-18 SWD Urethane Co. 26-Nov-18 City of Bluefield, West Virgina 8-Nov-19 Quality Manufacturing Corporation 8-Nov-19 Terrapin Beer Company, LLC 8-Nov-19 Waldinger Corporation 8-Nov-19 Finster Courier, Inc. dba Elite Express 8-Nov-19 Exide Technologies 8-Nov-19 Dominion Energy, Inc. 8-Nov-19 G & W Equipment 20-Nov-19 Butcher Air Conditioning 21-Nov-19 Unity Point Health 21-Nov-19 BMC-Corporate Services, Inc. 3-Nov-20 TTEC 3-Nov-20 Merit International Inc. 3-Nov-20 MPOWERHealth 3-Nov-20 Salute Inc. 3-Nov-20 Swift Transportation 3-Nov-20 Superior Plus Energy Services Inc. 3-Nov-20 Victorville Motors 3-Nov-20 Homeland Security Solutions 6-Nov-20 JCB, Inc. 6-Nov-20 Kentucky Department of Veterans Affairs 10-Nov-20 Chicago One Financial 13-Nov-20 Charles Rivers Laboratories, Inc. 13-Nov-20 MH Equipment Company 13-Nov-20 Bimbo Bakeries USA (BBU) 13-Nov-20 City of Downey 13-Nov-20 Foundation for the National Institutes of Health 13-Nov-20 Moffitt Cancer Center 13-Nov-20 Foundation for the National Institutes of Health 13-Nov-20 Moffitt Cancer Center 13-Nov-20 Skookum Contract Services 20-Nov-20 Buck Knives Inc. 20-Nov-20 Squaw Valley/Alpines Meadows 20-Nov-20 Potter County Sheriff's Office 20-Nov-20 Orange County, Florida 27-Nov-20 Toyko Electron U.S. Holdings, Inc. 30-Nov-20 Sprague Resources GP LLC 30-Nov-20 Twin City Fan Companies LTD 30-Nov-20 W.S. Daley Co. 30-Nov-20
---
---

Archived newsletters - https://www.armypays.com/newsletter/archive/Newsletter_list.html
To contact us please email usarmy.knox.hqda-asa-mra.mbx.Payshelpdesk@army.mil