The PaYS Team Highlights an Army Leader for Women's Equality Day

Story by: Alisha Reneau



Women's Equality Day is celebrated in the United States on August 26 to commemorate the 1920 adoption of the Nineteenth Amendment to the United States Constitution, which prohibits the states and the federal government from denying the right to vote to citizens of the United States on the basis of sex. The day highlights the work happening in the United States and around the world to gain full equality.

Women's Equality Day celebrates the achievements of women's rights activists and reminds us of the unique daily struggles that women face. Women's Equality Day is also a call to action in the struggle for equal treatment of women and women's rights.

Today, women make up about 18% of the total United States Army and all jobs are open to females. In honor of Women's Equality day, the Army PaYS team is highlighting a pioneering female leader in today's U.S. Army. This woman understands the importance of equality for all and has overcome many obstacles in her career.


LTC Natasha Clarke, Commander, New England Recruiting Battalion



The New England Recruiting Battalion welcomed its new commander, LTC Natasha Sunday Clarke as the first female and first African-American to serve in this position.

During the change of command ceremony LTC Clarke gave plenty of remarks of her journey. She states, "My Dad made me want to join the Military," says LTC Clarke. "Every one of us had to do a year of JROTC. In high school, I did a JROTC Challenge and there was a female sophomore on the color guard team with a lot of medals and I wanted ALL the medals."

"I quickly rose to the top," LTC Clarke continues. "I am very competitive. I participated on the Drill Team, Color Guard and Ranger Challenge and I ran track. I tried my best to lead from the front. In every organization I've been a part of, people have always told me that I stand out as a leader. Although I didn't always see it, people saw it in me."

"Serving in the military is a commitment greater than self but the opportunity that it provides to you to serve alongside others who are different- no matter the race, gender, creed, it's what makes our organization unique and for the greater good of the nation."

LTC Clarke shared her thoughts on Women's Equality day, "Women's Equality Day/Month is about paying tribute to the magnanimous contributions made by women throughout our Nation's history. Women's Equality Day/Month stands as a shining reminder of the strength our Military has gained and will continue to sustain through a diverse, All-Volunteer Force."

Thank you LTC Natasha Clarke for all your hard work and dedication to our country.



---

---




August is Antiterrorism Month - See Something, Say Something

Story by: Alisha Reneau



August is Antiterrorism Month and is designed to raise awareness of the threat of terrorism. It also encourages regular vigilance and communication to report potential threats. Throughout the month, there are a series of articles highlighting key points for increased awareness of goals, objectives and measures.

Threats can include everything from criminal activity to disgruntled employees and potential terrorist targeting. As risks and vulnerabilities are identified, mitigation measures are developed and put in place. These are exercised routinely, monitored for effectiveness and ultimately result in a solid foundation for a safe community and an acceptable level of risk.

In order to leverage every member of the Army community as a sensor to help identify and prevent potential terrorist acts, Fort McCoy has initiated the iWATCH program. This program aims to equip all members of the Army community with the knowledge of what constitutes suspicious activity and to disseminate iWATCH materials to the Army community as widely as possible through multimedia means. During the month of August, look for antiterrorism displays at different locations on the installation and feel free to pick up posters, handouts, and ask questions.

The Army PaYS Program has several partners that take action in creating innovative systems for counterterrorism.


IBM claims its i2 software can identify terrorists; In 2015, IBM began testing its i2 Enterprise Insight Analysis software to see if it could pick out terrorists, distinguish genuine refugees from imposters carrying fake passports, and perhaps predict bomb attacks.





The Cisco Security portal provides actionable intelligence for security threats and vulnerabilities in Cisco products and services and third-party products.





Accenture works with their clients to increase resilience against cyber threats. They create cybersecurity tailored to specific-business needs, and defend against cyberattacks with proactive, focused industry-relevant threat intelligence to give you the confidence that comes from knowing your business is secure.



Remember to always report suspicious activities immediately, and let the professionals take it from there. Your personal situational awareness, not only improves the safety of you and your family but can impact the entire community.



Sources: https://www.accenture.com/us-en/services/security-index
https://www.cisco.com/c/en/us/support/index.html
https://www.army.mil/article/237618/august_is_antiterrorism_awareness_month
https://www.ibm.com/us-en?p1=Search&p4=43700050478421002&p5=e&gclid=Cj0KCQjw3f6HBhDHARIsAD_i3D8jMYAj9gNNspSV0FDEQlu0Q4cjsoQ5oIA-LlE6OmFqkMrqPj9bZpUaAj1HEALw_wcB&gclsrc=aw.ds

---

---

A MESSAGE FROM
THE PROGRAM MANAGER...



















Dear PaYS Partners,

Let's welcome our newest PaYS Partners and give a special thanks to the battalion's leadership and A&PAs for their support.


Oswego Health - Syracuse Battalion

Res-Care, Inc. dba Brightspring Health Services - Nashville Battalion

Michigan Department of Corrections - Great Lakes Battalion

Spartanburg County Sheriff's Office - Columbia Battalion

SkillStorm Commercial Services, LLC - Jacksonville Battalion

Rome Police Department - Atlanta Battalion

Georgia Department of Natural Resources Law Enforcement Division - Atlanta Battalion

City of San Antonio - San Antonio Battalion

Stafford County Sheriff's Office - Baltimore Battalion


Upcoming Signing Ceremonies

10 August 2021: Floyd County Sheriff's Office - Atlanta Battalion
23 August 2021: Buck Knives Post Falls - Seattle Battalion
10 September 2021: McLeod - Columbia Battalion
14 September 2021: Nine Line - Jacksonville Battalion
15 September 2021: Swift Transport - Phoenix Battalion
15 September 2021: Knight Transport - Phoenix Battalion
21 September 2021: Mears Destination - Tampa Battalion
21 September 2021: Orange County, FL - Tampa Battalion
28 September 2021: D.A. Collins Construction - Vermont ARNG
29 September 2021: Tokyo Electron - San Antonio Battalion


Regional Army PaYS Marketing Analysts:

Crancena Ross (Northeast Region)
(410) 206-0413
crancena.g.ross.ctr@mail.mil

Kristopher Broadus (Southeast Region)
(615) 419-5357
kristopher.s.broadus.ctr@mail.mil

Davin Bentley (Midwest Region)
(614) 886-0270
davin.j.bentley.ctr@mail.mil

James Meade (Southwest Region)
(614) 404-9104
james.r.meade6.ctr@mail.mil

John Delk (West Region)
(847) 971-1336
john.e.delk.ctr@mail.mil

Malinda Johnson (Senior Marketer)
(757) 777-2416
malinda.a.johnson.ctr@mail.mil

Samuel Armstrong (ARNG Marketer)
(202) 770-7200
samuel.armstrong21.ctr@mail.mil






The Las Vegas Recruiting Company Area
Story by: John Delk


John Delk, PaYS Marketing Analyst for the western region, conducted a marketing trip in the Las Vegas Recruiting Company area. His key visits included the Las Vegas Army Recruiting Company and the Green Valley Recruiting Station, University of Nevada Las Vegas ROTC department, and a visit to the City of Henderson, Nevada City Hall.


At UNLV, Mr. Delk met LTC Charles Dickerson (UNLV ROTC PMS), MSG Brandon Bird, 2LT Joehryl Catini and Reserve recruiters from the local area. They discussed the Minute Man Scholarships and the PaYS Program and how it will benefit ROTC Cadets. Ambassador, Christopher Schroeder, Office of the Chief, Army Reserve (OCAR) ARA, recognized several Reserve Recruiters for going above and beyond with community outreach efforts.

During a visit to the Green Valley Recruiting Station, Mr. Delk met with the Station Commander, SFC Ronald Clinton and discussed the PaYS Program and the benefits to the Future Soldiers, to the PaYS Partner and to the Army as a whole. Mr. Delk also talked to SFC Clinton and all the Recruiting NCOs in the office about the PaYS Program and ensured they all knew about the updates to the program in efforts to make certain all potential Future Soldiers are selecting five PaYS Partners with their enlistment contracts.

Left - Green Valley Recruiting Station; Pictured from left to right: John Delk, PaYS Marketing Analyst, SSG Richard Callaway, SFC Ronald Clinton, Station Commander, SFC Vincent Dyer, SSG Bernardo Camarena, SSG Emanuel Rodriguez

Below - Change of Responsibility ceremony for the outgoing and incoming First Sergeants of the Las Vegas Recruiting Company


Mr. Delk attended the Change of Responsibility Ceremony of the Las Vegas Recruiting Company First Sergeants. Those in attendance watched First Sergeant Sandy Cho relinquish her responsibilities and First Sergeant Arlondo Sutton assume his responsibilities as the First Sergeant of the Las Vegas Recruiting Company.




With Vegas in full swing, so too is the Partnership for Youth Success Program (PaYS), ready to connect the community and local businesses with the Army's Future Soldiers. When Las Vegas closed their doors in March 2020, it was the first time the world-famous, neon-lit strip had shut down since President John F. Kennedy's funeral in 1963. Las Vegas fully opened back up in June 2021 and reverted to pre-pandemic guidelines lifting all capacity limits and social distancing requirements. Most casinos, including the Cosmopolitan of Las Vegas (Current PaYS Partner), the Strat, Wynn, Encore, Palazzo and Venetian have all returned to 100 percent capacity.




The highlight of this trip was the visit to the City of Henderson, City Hall, to meet with Tim Buchanan, Public Affairs Representative, Office of the Mayor and Council at City of Henderson; the Army Reserve Ambassador (ARA); Christopher Schroeder, and the Congressional Legislative Liaison COL Jerry A. Brown. All received an overview of the PaYS Program which was followed with a tour of the new improvements to the downtown Henderson Nevada area.


Right - left to right - COL. Jerry Brown, Mr. Tim Buchanan, Ambassador Christopher Schroeder, Mr. John Delk
Sources: Gidman, J. (2020, Oct 26) Here Are the US Cities Hardest Hit Financially by COVID
Newser. https://www.newser.com/story/297921/here-are-the-us-cities-hardest-hit-financially-by-covid.html




---
---
National Purple Heart Day
Story by: Kris Broadus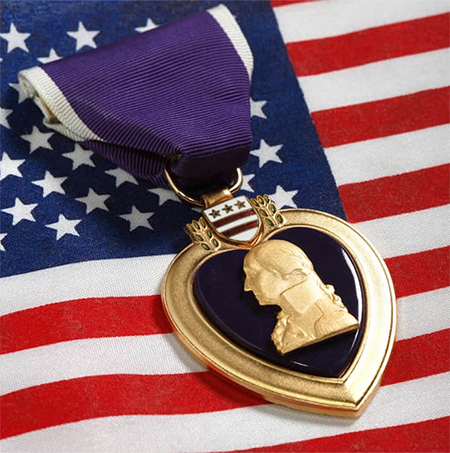 On August 7th, the Nation will pause to acknowledge and remember the sacrifices made by our selfless veterans of the United States Armed Forces. The Purple Heart is presented to our service men and women who have been wounded as a result of enemy action while serving in the U.S. Military. The Purple Heart is the oldest award and its roots date back to the 1780's and the Revolutionary War.

General George Washington created the Badge of Merit in 1782. Washington intended the honor to be presented to Soldiers for "Any singularly meritorious action." It was designed to include a purple, heart-shaped piece of silk bound with a thin edge of silver. For years it was considered a Military footnote from the Revolutionary War. It wasn't until Washington's 200th birthday, when General Douglas MacArthur, the War Department created the Order of the Purple Heart and gave it its modern day look in 1932. The medal was redesigned to its current form which bears a bust of George Washington and his coat of arms on purple cloth.

Since 1932, Purple Heart Day has long been celebrated on Valentine's Day or George Washington's birthday. Several cities and states have their own unique observances to honor those service members wounded or killed in combat and their heroic actions. Over the years the day evolved and is now celebrated nationally on August 7th, the day the award was created in 1782.

It is reported that nearly 1.9 million American service men and women have been awarded the Purple Heart since its inception. Awardees include actors like Charles Bronson, Audi Murphy, professional football player Pat Tillman, Colin Powell, and John F. Kennedy is the only U.S. President to be awarded the medal.

Purple Heart Day is a solemn remembrance of those U.S. service members who have sacrificed themselves, or paid the ultimate sacrifice in the line of duty. Their sacrifices will not go unnoticed and they have greatly contributed to the security of our nation while ensuring freedom rings.

References: https://nationaldaycalendar.com/purple-heart-day-august-7
https://www.uso.org/stories/2276-8-purple-heart-facts
---
---
Arizona Army National Guard Continues to Support Local Food Banks
Story by: Samuel Armstrong
Photo by: Tech SGT Dillion Davis, 161st Air Refueling Wing Public Affairs Office


The National Guard is known for responding to floods, hurricanes, wildfires, and wars. Now the Arizona Army National Guard is known for responding to the shortfalls of Arizona's food banks.

Arizona Army National Guard (AZARNG) has been on the forefront of the community helping food banks since March 2020. Arizona has activated more than 800 National Guard Soldiers to support community food banks and community needs during their state of emergency response. AZARNG presence can be felt throughout the whole state ensuring citizens have access to quality and healthy food. AZARNG Soldiers have helped prepare, pack, and deliver food to locations throughout Arizona. The Soldiers can be seen driving forklifts, driving trucks, and working in food banks. Some food banks are closed due to the pandemic, which resulted in drive thru food distribution and delivery. AZARNG also have set up mobile food banks and assisted in the distribution of food to citizens. Soldiers are doing this while adhering to the Covid-19 protocols.

Earlier this year, the AZARNG transported food from Gilbert, AZ to the Colorado River Indian Tribe to support the community needs during this state of emergency response.


Left - U.S. Army Spc. Jorge Tapia, left, 2-285th Aviation Company wheeled vehicle mechanic, and U.S. Army Sgt. David Daniels, 222 Transportation Company, transportation specialist, help unload pallets of grocery donations at a food bank in Parker, Arizona

Below - Arizona Army National Guard Pfc. Manuel Pina-Torres, 1-158th Infantry Battalion, infantryman, and Sgt. Joe Branch, 2220 Transportation Company, transportation specialist, unload boxes of groceries from a truck at a food bank in Parker, Arizona
















Source: https://www.aerotechnews.com/davis-monthanafb/2021/03/23/national-guard-continues-to-support-local-community-food-banks-transports-food-across-arizona/




---
---
6th Brigade Change of Command Ceremony
Story and Photos by: John Delk

On 20 July 2021, PaYS Marketing Analyst, John Delk attended the U.S. Army 6th Recruiting Brigade Change of Command Ceremony at Nellis Air Force Base, NV.

Right - COL Benjamin R. Luper (r) relinquished command of 6th Recruiting Brigade to COL Michael L. Lindley (l); CSM Cedric White (center) receiving color back from the incoming Brigade Commander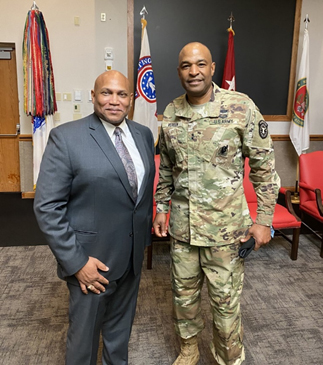 Left - John Delk, PaYS Marketing Analyst and MG Kevin Vereen, Commanding General, USAREC
MG Kevin Vereen, Commanding General, U.S. Army Recruiting Command, presided over the event and thanked COL Luper, the outgoing commander, for his performance and the many achievements of the 6th Recruiting Brigade.

MG Vereen gave his remarks and stated, "Recruiting for the Army is a unique mission with unique challenges. USAREC recruits America's best and brightest volunteers to serve with purpose, that are able to deploy, fight and win on the battlefield anywhere anytime, that's our mission. COL Luper faced challenges head on this year and last year, but because of his tremendous leadership, we can see the successes of 6th Recruiting Brigade."

MG Vereen went on to tell COL Linley, the incoming commander, one of the best kept secrets of the Army, "Being a Recruiting Brigade Commander is one of the most impactful assignments in the U.S. Army. You are building the Army and assuring our Nation's security."

After the ceremony, MG Vereen and the Civilian Aide to the Secretary of the Army (CASA), Honorable Mario Guerra both positively expressed the importance of the PaYS Program's impact on our Future Soldiers and Veterans to the honored guests and the 6th Brigade Recruiting Command team and staff.
---
---

A Big Thank You to these Partners Celebrating their August PaYS Anniversaries:
The Pepsi Bottling Group 15-Aug-00 LAPD 22-Aug-02 Charlotte-Mecklenburg PD 23-Aug-02 JX Enterprises, Inc. 29-Aug-02 Washington State Patrol 4-Aug-03 Rockford Police Department 4-Aug-03 City of Naples, Florida 15-Aug-03 Richmond Police Department 25-Aug-03 Scottsdale Police Department 26-Aug-05 American Systems Corporation 14-Aug-06 New Jersey Basketball LLc d/b/a Brooklyn Nets Basketball 8-Aug-07 General Motors Corporation 22-Aug-07 Kansas Dept of Social & Rehabilitation Services 22-Aug-07 Community Asphalt Corporation 22-Aug-07 Canam Steel Corporation 13-Aug-08 Oshkosh Corporation 13-Aug-08 Life Time Fitness, Inc. 17-Aug-08 City of Riverside, CA 7-Aug-09 Citrus Heights Police Department 12-Aug-09 Hawthorne Machinery Company 3-Aug-11 New Horizons Computer Learning Centers of Southern California 14-Aug-13 Performance Contractors 21-Aug-13 HOLT CAT 21-Aug-13 Tesla Motors 20-Aug-15 City of Joplin 2-Aug-16 City of Rock Spring 2-Aug-16 Penrose-St Francis Health Services 2-Aug-16 National Association of Community Health Center 8-Aug-16 Central Bank & Trust Co. 8-Aug-16 Corrections Corporation of America 19-Aug-16 Perdue Farms Inc. 19-Aug-16 Willis-Knighton Health System 29-Aug-16 Eastern Maine Healthcare 4-Aug-17 NOW Foods 11-Aug-17 City of Dublin 21-Aug-17 Mountaire Farms, Inc. 21-Aug-17 Kellerstrass Enterprise, Inc. 21-Aug-17 City of Chattanooga 28-Aug-17 Memorial Hospital d.b.a. Memorial Regional Health 28-Aug-17 NU Look Home Design 28-Aug-17 Windstream Holdings Inc. 28-Aug-17 Raven Transport Company 28-Aug-17 Superior Service Transport, Inc. 28-Aug-17 Main Street Renewal, LLC 28-Aug-17 G&P Trucking Company, Inc. 28-Aug-17 MainGate Inc. 28-Aug-17 Virgin Island Police Department 6-Aug-19 Geisinger System Services 6-Aug-19 Grande Aire Services, Inc. 6-Aug-19 MEARS Destination Services, Inc. 12-Aug-19 ANS Advanced Network Services, LLC 23-Aug-19 Nevada County 23-Aug-19 PolyOne Corporation 23-Aug-19 Fabick Cat 23-Aug-19 Thompson Gray, Inc. 23-Aug-19 Bausch Health US, LLC 23-Aug-19 Veterinary Specialists of North America 23-Aug-19 System Application & Technologies, Inc. 23-Aug-19 Home Team Pest Defense 23-Aug-19 MassMutual Commonwealth 23-Aug-19 Rocky Brands, Inc. 23-Aug-19 West Shore Home 27-Aug-19 Motorola Solutions, Inc. 27-Aug-19 Allison-Smith Company, LLC 31-Aug-20
---
---

Archived newsletters - https://www.armypays.com/newsletter/archive/Newsletter_list.html
To contact us please email usarmy.knox.hqda-asa-mra.list.payscoordinatormgmt@mail.mil